28 Weeks Later, the sequel to 28 Days Later, was directed by Juan Carlos Fresnadillo.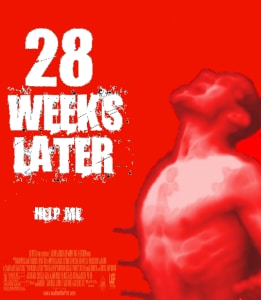 As MTV reports, he somehow managed the difficult task of living up to - and standing apart from - the influential first film in the budding franchise. The music channel's movie blog interviewed him and we've recapped it below:
MTV: How did [original director] Danny Boyle come to select you to make this?
Juan Carlos Fresnadillo: Danny watched my first feature, "Intacto," and he liked it a lot. He thought, this is the perfect director to make the movie. When I received the invitation to do it, I was honored, but at the same time I was concerned. English is not my first language and I didn't even know London too much. And in this movie London is a big character. I was questioning myself if I was the proper filmmaker to do it, but they insisted. They wanted something new and fresh…and that was my approach. I'm really thankful of the freedom I got from the beginning. It's so rare when it comes to these kinds of movies.
MTV: Can you make a genre film like this especially personal to you?
Fresnadillo: To be honest, I feel like this movie is very personal. The concept of an infection and these people trying to survive being surrounded by this terrible menace is a concept I love. I love the idea of the family as a kind of heart to the story, but they are a heart in trouble. From the beginning you see this man abandoning his wife and you realize that this man is going to suffer with that. Sometimes guilt is another infection, another disease.
MTV: I understand Danny shot some second-unit on the opening sequence?
Fresnadillo: Yes. He came for two days to help us. It was such an honor. I'm so pleased that Danny did that because when I was showing him the shots and storyboards he was so passionate about it and told me, "Please, let me help you with this." He showed his generosity with that.
MTV: It's an especially dramatic and harrowing sequence that really sets the tone for the rest of the film.
Fresnadillo: To me, it's kind of a statement for the rest of the movie. You can find all the elements that the story is going to develop later on. It's a kind of a map to me.
MTV: How important do you think realism is to genre stories like this?
Fresnadillo: This kind of apocalyptic thriller has to feel real and that was my approach, to try to bring realism to the movie. I think the more real the better the horror. I think these days when you're dealing with these apocalyptic visions it makes sense to show something real. We're living in a difficult time now and in these kinds of movies it's a good thing to think about it and the danger we're surrounded by.
MTV: The ending of the film certainly leaves room for a sequel.
Fresnadillo: I don't know if somebody is going to make it. When I did that ending, to me it made sense to the plot of the story. It's the curse of the family and the lost war with the infection. Everybody tries to survive including the virus. It's an ending that opens a door which is something that I love.
MTV: Would you want to direct another chapter?
Fresnadillo: I think it's good when there are fresh ideas in the same way that Danny selected me. I would be so happy if someone did another chapter because it means this one worked.