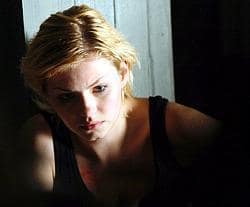 Have you seen those pulled posters for
Captivity
?
Think they're sadistic, or violent, or maybe even wildly inappropriate? Well you ain't seen nothing yet, promised the film's star Elisha Cuthbert when talking to MTV News.
"I'm a model that gets [held] captive and gets locked in a room, wakes up in a cell and doesn't know what day it is or how long she's been there. She just gets tormented the entire time," Cuthbert said of the horror flick's plot. "I get buried in sand up over my head. [It's] scary. Really scary."
Blame the filmmakers or the stars if you like, but Cuthbert insists that there's an audience for this kind of flick.
"There's some really brutal stuff in this film, but I think that's what audiences are waiting for now," she asserted. "Saw, Hostel, all these movies have really raised the bar as far as horror movies go, and we had to get up there ourselves."
Still, it's not a genre Cuthbert is going to be hanging around in long. My Sassy Girl, a romantic comedy Cuthbert joked was like "a mix between Big Fish and When Harry Met Sally" comes out later this year.
"It's about a guy that falls for a girl that's completely off her rocker and out of her mind," she said. "It's a really beautiful film."