Baseball has Eight Men Out and The Natural.
Boxing has Cinderella Man and Raging Bull. Heck, even golf has The Greatest Game Ever Played.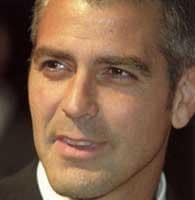 For fans of America's true sporting pastime, however, cinematic nostalgia has been far too fleeting…until now, that is. OnDecember 7th, George Clooney aims to pay homage to pigskin's early days with the film Leatherheads.
"We just wrapped [it]," Pirates of the Caribbean co-star Jonathan Pryce told MTV News. "It's about the creation of American pro football in 1926 when they brought in the rules."
The movie is directed by Clooney, who penned the script with frequent collaborator Steven Soderbergh.
"Clooney's wonderful," Pryce said. "I think it's going to be really good." Make no mistake, however, this is no Good Night, and Good Luck," Pryce joked. "It's a kind of screwball comedy."
So with Clooney quarterbacking the production, where do all the other stars line up? "George plays for a ragtag, over-the-hill football team. They attract [The Office star] John Krasinski, star college football player to come and play. I'm [his] sleazy agent and manager," Pryce divulged.
[There's a] bit of a scandal involved. Renee Zellweger, ace reporter, is dispatched to expose [it]."