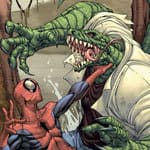 Marvel Comics living legend Stan Lee has chimed in with his opinion regarding the next installment of the
Spider-Man
franchise.
In an interview with Gerrad Hall of ReelzChannel's Dailies, Lee suggested that The Lizard would be the logical choice as the next villain to take on the webslinger in Spider-Man 4.
According to Marvel lore, The Lizard was once a highly skilled Army surgeon named Curt Connors.
Connors, who had lost an arm to a grenade blast while attending to an injured soldier, inadvertently transformed into a reptilian beast after ingesting a formula designed to regenerate his missing limb.