Do Big and Carrie get married? Is it all just a dream? Rumors abound about Sex and the City: The Movie.
That's why it's a good thing Chris Noth sat down with TV Guide to discuss the film a bit...
TVGuide.com: The pictures of you and Sarah Jessica Parker on the set of Sex and the City are just adorable.
Noth: Oh, my god, the freakin' paparazzi on every location we're at is unbelievable. I mean, it's really sad, because when I come to the Law & Order set, no one really cares �" they're so used to us over the years. It's really like night and day. For whatever reason, [Mr. Big] sort of ignited some kind of chemical combustion in people's heads [Laughs], and so it's like I never did Logan.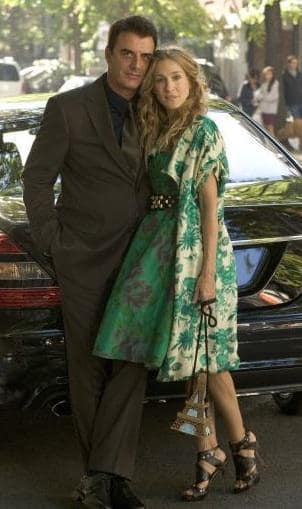 TVGuide.com: Is there anything about the movie you can tell us?
Noth: No, I can't tell you anything �" only that it exceeds all expectations in terms of the writing and it's going to be a great one.
TVGuide.com: Are you having a good time?
Noth: It's a lot of work. I'm doing both at the same time, so I'm just trying to keep up with it and not look like Mike Logan when I'm doing Sex and the City. [Laughs] We don't care what Mike Logan looks like because he's supposed to be a detective, but in Sex and the City, I've got to look halfway decent around these gorgeous girls. I'll have to cut it down to just two glasses of wine instead of a bottle. [Laughs]