USA Today has an exclusive first look at the latest Mike Myers' inspired comedy, The Love Guru.
The film, which also stars Jessica Alba, Justin Timberlake and Ben Kingsley, features Myers as Pitka, an American left as a child at the gates of an ashram in India. Pitka becomes a self-help guru who tries to smooth the marital rift of a hockey star and his wife.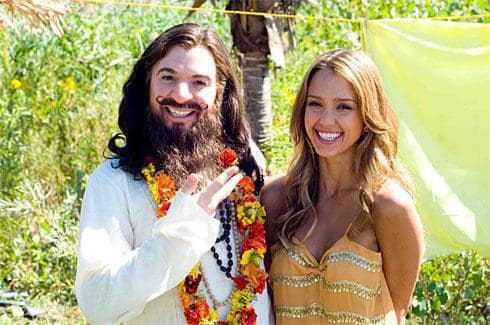 Myers, a native of Ontario, says he wrote the film because of his interests in Eastern philosophy and hockey. But he isn't the type to zip out a script the moment an idea hits.
"I enjoy having the Lamaze birthing process of it," says Myers, who also authored the Wayne's World and Austin Powers franchises. "It usually takes me three, 3½ years in between characters."
Why so long? The actor very protective of his original live-action characters.
"I've written and created everything I've done, and it takes me a year to reflect on what I've done, a year to let the idea incubate and a year to create" a new character.
This time around, that included playing a philosopher of Eastern religion in New York and Los Angeles, where some unsuspecting passersby sought advice from Myers, who never broke from character.
"They asked some very spiritual and deep questions," he says. "It's been fascinating combining comedy with a nice life-affirming message."
So, will The Love Guru be a hit? Don't ask Myers. He didn't expect his two most famous alter-egos to be so loved.
"When I did Wayne's World, I thought you had to grow up in my neighborhood to get it," he says. "When I did Austin, I thought you had to grow up in my house to get it, because my parents are from Liverpool. But I've been very lucky to create things people have liked, so I have to stay true to the things that interest me."