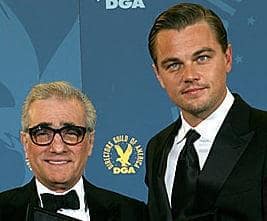 They're at it again. And movie lovers should be grateful.
Leonardo DiCaprio and Martin Scorsese are teaming up for their fourth film together, with Variety reporting the latest to be called Shutter island.
The drama is set in 1954, with DiCaprio in final talks to play U.S. Marshal Teddy Daniels. He's investigating the disappearance of a murderess who escaped from a hospital for the criminally insane and is presumed to be hiding on the remote Shutter Island.
Production for the movie begins in March 2008.
Previously, DiCaprio and Scorsese have worked together on Gangs of New York, The Aviator and The Departed.