Here's the summary for the third film in the franchise of The Mummy. Brandon Frazier will return to the starring role, as he's joined by Asian sensation Jet Li:
The blockbuster global Mummy franchise takes a spellbinding turn as the action shifts to Asia for the next chapter in the adventure series, The Mummy: Tomb of the Dragon Emperor.
Fraser returns as explorer Rick O'Connell to combat the resurrected Han Emperor (Li) in an epic that races from the catacombs of ancient China high into the frigid Himalayas.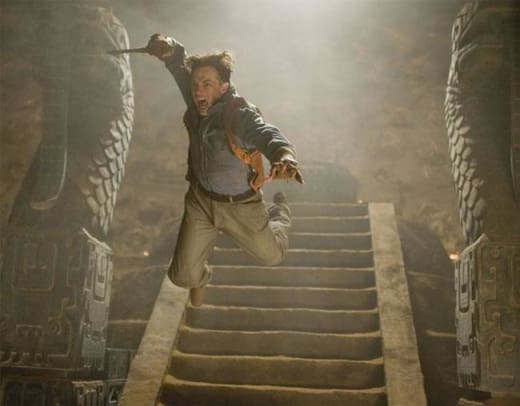 Rick is joined in this all-new adventure by son Alex (newcomer Luke Ford), wife Evelyn (Maria Bello) and her brother, Jonathan (John Hannah). And this time, the O'Connells must stop a mummy awoken from a 2,000-year-old curse who threatens to plunge the world into his merciless, unending service.
Doomed by a double-crossing sorceress (Michelle Yeoh) to spend eternity in suspended animation, China's ruthless Dragon Emperor and his 10,000 warriors have laid forgotten for eons, entombed in clay as a vast, silent terra cotta army.
But when dashing adventurer Alex O'Connell is tricked into awakening the ruler from eternal slumber, the reckless young archaeologist must seek the help of the only people who know more than he does about taking down the undead: his parents.
As the monarch roars back to life, our heroes find his quest for world domination has only intensified over the millennia.