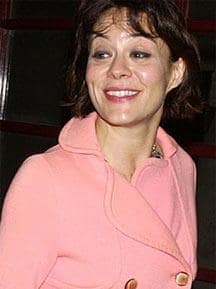 Helen McCrory was originally cast as Bellatrix Lestrange in
Harry Potter and the Order of the Phoenix
. But a little pregnancy forced the actress to pull out of this role.
Now, though, the British thespian has given birth and is ready to join the cast of Harry Potter and the Half-Blood Prince.
McCrory has been cast as the haughty, domineering Narcissa Malfoy in the upcoming film. A blond-haired, blue-eyed, pureblood witch, Narcissa is a fellow minion of Lord Voldemort, along with her sister Bellatrix, her husband Lucius and her son Draco.
Narcissa has a much more prominent, and crucial, role in the seventh book, Harry Potter and the Deathly Hallows.
McCrory played Prime Minister Tony Blair's wife in last year's Oscar-winning The Queen. Meanwhile, Harry Potter and the Half-Blood Prince is slated to open November 2008.