Hilary Angelo stars alongside Tom Hanks in Charlie Wilson's War, opening on Christmas Day.
Actually, Hilary Angelo seduces Tom Hanks in Charlie Wilson's War. She recently talked about the role with Movie Web:
You are co-starring in Charlie Wilson's War. Can you tell me about the character you play in this film?
Hilary Angelo: I play a woman named Kelly. She is a stripper in Vegas. It is a true story, this movie. I am in the first fifteen minutes of the film. Kelly more or less tries to seduce Tom Hanks, who is playing Charlie Wilson. They are over at Caesar's Palace, and it is a crazy party.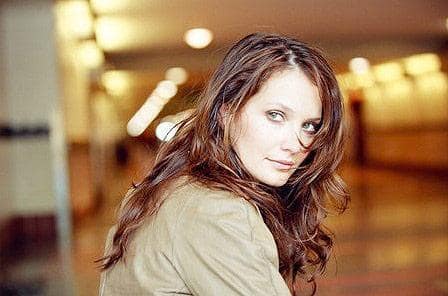 She is trying to get to know Charlie in a hot tub, but he is not paying attention to her. He is more interested in Dan Rather on television. A couple of "things" later, I'm still trying to get his attention. But he is much more interested in politics. Which I think is interesting.
You would think he'd be more interested in a stripper. It sort of introduces Charlie as a playboy guy who hangs out with people of this ilk. And he is a politician. Now, all of a sudden, he has taken an interest in Afghanistan. It all has to do with being in the hot tub and watching Dan Rather.
So, it really is the launch of the film. I don't want to give away too much. Charlie in real life gets in trouble for hanging out with strippers in hot tubs. He did get in trouble with congress in the 80s for doing that.
To read the full interview, click here.