Take this as a rumor, but we've heard the following about Indiana Jones and the Kingdom of the Crystal Skull.
To celebrate Close Encounters of the Third Kind's 30th anniversary, Steven Spielberg has dusted off those rubber Extraterrestrial dummies for a cameo appearance in the final (we assume) installment of Indiana Jones.
This may sound ludicrous, but Harvard lecturer Dr. Marc Zender makes it seem as though aliens may play a role in the film.
He explains that crystal skulls were once displayed in museums across the globe as proof of ancient Mayan grinding technology, but they're actually all fakes, most likely manufactured in late 19th-century Germany.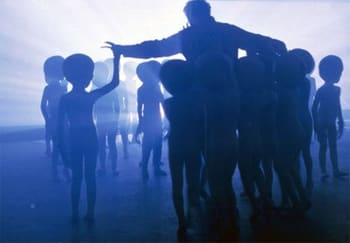 Can you imagine aliens popping up in Indiana Jones and the Kingdom of the Crystal Skull?
"These things are big crystals, and people started thinking of them as these super computers of past civilizations," Dr. Zender said. "If a silicon chip can hold tons of information and data, imagine what a gigantic 11-pound crystal can hold. So maybe this skull has stored all of the lost knowledge of the Mayans or Atlantians, or ET."