Tom Brady may make headlines these days for dating Gisele Bundchen.
And Tony Romo may be in the news a lot for dating, well, we can't keep track of which Hollywood hottie he's with at the moment.
But the first celebrity quarterback of all-time was unquestionably Joe Namath. And fans will get a chance to learn about the former Jets star now that Jake Gyllenhaal has signed up to portray him in an upcoming biopic.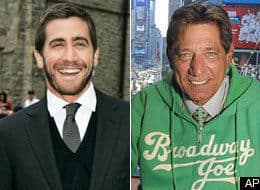 Producers have long been after Namath for a movie, but he only recently agreed after a strong pitch by writer David Hollander (The Guardian) and the understanding that Gyllenhaal would star.
Namath was the highly popular quarterback of the New York Jets from 1965-1976 and achieved legendary status for his bold prediction that his Jets would beat the seemingly invincible Colts in Super Bowl III.