Javier Bardem is a busy man.
As he earns critical acclaim for his role in No Country for Old Men, the actor is also doing publicity for the film, Love in the Time of Cholera.
Here's a snippet of a recent interview he conducted:
ComingSoon.net: You've said that you read Marquez's book when you were 14 and that it made a big impression on you. How did those feelings carry over to yourself as an adult and getting to portray that character?
Javier Bardem: Well, the first time I read it, as you said, it was so big. It's such a big novel. I mean, I followed the storyline, but I remember being thoroughly stuck in the reading of it. I was trying to get lost in the descriptions, for example when she goes to the market and the way that Garcia Marquez explains the flavors and the smells of the fruits and all of that.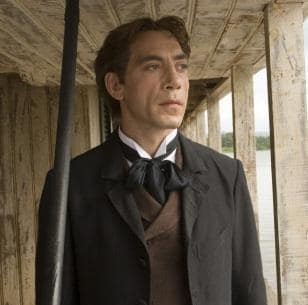 I remember reading that like six times in a row, going through the page. It just opened a whole world for you and there were many things that I missed. After that, I read it twice. When I knew the movie was going to happen, I felt like I had to talk to the director and say, "I have a big passion for this character." Also, as an actor, it's a challenge to try to do somebody that goes from 20 to 75, because when you do that you have to avoid acting age.
You have to really try to act the character aging, which is different. That's a challenge, especially when, for example, you're shooting scenes in when you're 20, when you're 40 and when you're 75 all in the same day, and you have to change years that fast. That's a challenge, and I wanted to go to that challenge.
To read the full interview, click here.