As Johnny Depp takes on another eccentric role in Sweeney Todd, he recently spoke with Entertainment Weekly about the film.
Here's an excerpt:
Musical lovers and Stephen Sondheim fanatics know Sweeney Todd really well. What about the general public? Somebody sent me this thing from online. Somebody said, after they saw the trailer, ''I don't understand why in the middle of that trailer Depp broke into a song.'' Like, ''Whoa â€" What is he doing?''
Singers say Sondheim's melodies can be incredibly tough. Why? It's real obtuse stuff. When you start to take those pieces apart, melody line by melody line, it's a lot of half-steps, which is not real easy to do. Kind of go G to A-flat to A to B-flat. It's super, ultra complicated, these notes that shouldn't work together at times. But he made them so.
How messy was it filming Sweeney's really bloody scenes? I remember everyone except me being covered in plastic trash bags. There'd be a countdown. Three, two, one…action! And then blammo, you know? The great deluge. The process we shot in called for a slightly over-the-top kind of color. They were going to desaturate it later, so they had to bring the color up on the set. It was kind of orangeish. A very unnatural-looking color.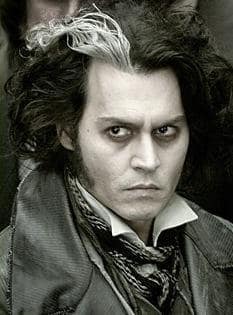 What does all that fake blood smell and taste like? It tasted kind of like a Karo-syrupy sort of thing. It was oily. And it was dangerous. Slippery. You'd see these big English grips, tiptoeing through the swamp of blood. Very surreal.
Sacha Baron Cohen plays another barber in Sweeney Todd. What's he like when he's not Borat or Bruno or Ali G? He's not what I expected. I didn't look at those characters and think, This will be the sweetest guy in the world. He's incredibly nice. A real gentleman, kind of elegant. I was impressed with him. He's kind of today's equivalent of Peter Sellers.
Follow our link to read the full interview with Depp.