Josh Brolin is on fire right about now. The actor appears in two Oscar-caliber movies: American Gangster and No Country for Old Men.
Below, he talks about the latter with Movie Web...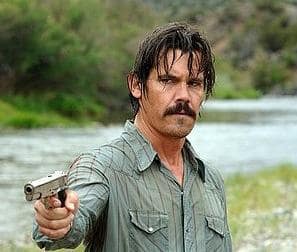 We've always been a huge fan of the Coen Brothers, but this No Country for Old Men really seems to be their return to the spotlight. What was the experience like working with them?
Josh Brolin: It was amazing. They're just people that I've always wanted to work with for the longest time. I never thought that I'd get to work with them as a lead character. They're very easy, very trusting in the process. Not a lot a strife and misunderstanding going on.
Javier Bardem is quite a presence as your pursuer, Anton Chigurh. What was the dynamic like with him on the set?
Josh Brolin: Javier is one of the sweetest, most unbelievably gracious guys I've ever met in my life. Listen man, we made fun of each other on the set, we tried to break each other up constantly (laughs) and it just made it that much more fun, but it made the focus more intense when we had to do what we were doing.
It was wonderful working with him, and I would work with him again and again. I think we both feel that same way. I think we could probably do a comedy now. We can't seem to hang out with each other without trying to break the other one up.
The tension, and all of that kind of stuff, I think that was more in the beginning of the movie, when we were still searching for our character and really wanting to find that hook for either one of us, in order to do justice to the part.
After awhile, you find that hook and you start to be more comfortable with it. I mean, really, our only worry, after a certain point, was just to keep our imaginations active, and the best way to do that is to f-ck with your compadre as much as possible.
Click here to read the full interview.