As he portrays the role of Henning Hermann Robert Karl von Tresckow in Valkyrie, Kenneth Branagh is forced to ponder a heavy question:
What if Hitler had been assassinated before the end of WWII?
"One feels the weight of that [question]," Branagh told MTV. "The near misses, a last minute replacement of a bomb behind a wooden oak table leg that meant the course of the 20th century changed. Everything would have changed."
It's an issue that Branagh admitted to spending a lot of time thinking about ever since he joined Tom Cruise on the Bryan Singer film, which follows Claus Schenk Graf von Stauffenberg and a tight band of resistance fighters as they attempt to kill Hitler, an assassination attempt known to history as the "July 20 Plot."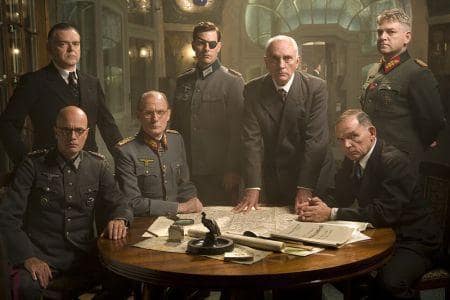 Branagh plays "the guy who recruited Tom Cruise's character. He was very publicly anti Hitler from 1936 onwards. The film has revealed to me how surprising the extent that there was resistance in the German army to Hitler."
"It's brilliantly done," Branagh said of the film. "Bryan Singer is encyclopedic on this subject. Cruise is very well cast. This tale is so extraordinarily gripping and suspenseful."