Because Big and Like Father Like Son aren't enough, Matthew Perry and Zac Efron have signed on to star in Seventeen, a movie that sounds just like the aforementioned films.
Perry will play the older version of Efron in the upcoming age-switch movie.. The flick will star Perry as a smart ass father who wakes up and finds that he's back to his 17-year-old self. Sounds familiar?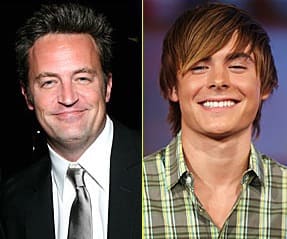 New Line is boasting that the film "turns the concept of Big on its head," but we're not entirely sure how. Anyway, Leslie Mann, the wife of comedic genius Judd Apatow, is will also star in the unoriginal movie.