We love Shrek, but can't say we're too excited about a fourth installment of the franchise. Where will it end? Will we be watching Shrek the 78th from nursing homes?
Nevertheless, we can say we love puns, so the title of the fourth movie in this series is at least appealing: It will be called Shrek Goes Fourth and it's scheduled to hit theaters on May 21st, 2010.
Get in line now for the best seats!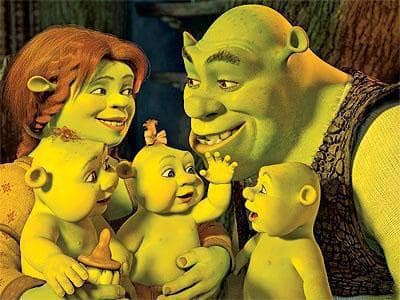 The script isn't written yet, but check this out from Jeffrey Katzenberg (DreamWorks co-founder):
"Ultimately we will come back to understand how Shrek arrived in that swamp. We will reveal his story... It's a finite story, has been from the beginning and I think that's part of its integrity, part of its strength, that we're not thinking this up as we go."