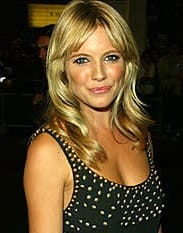 Can you pictured Sienna Miller a real American hero?
You'll have to try now, as the British actress has become the the first to join the big-budget G.I. Joe movie, according to Variety.
The 25-year-old ex of Jude Law will play the film's female lead, described as a raven-haired baroness and sexy femme fatale skilled in espionage.
The Stephen Sommers-directed film will be live-action and is based on the Hasbro toys, comicbook and TV series.
The story is set at Brussels-based GIJOE, an acronym for the Global Integrated Joint Operating Entity, and revolves around an international co-ed force of operatives who use high-tech equipment to battle Cobra, an evil org headed by a Scottish arms dealer.
G.I. Joe: The Movie is scheduled for an Aug. 7, 2009, release.