Former Laguna Beach star Talan Torriero - who currently stars in the film Driftwood - wants to portray Aquaman in the upcoming film Justice League of America.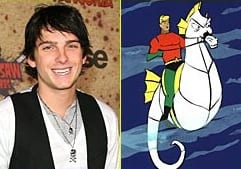 Here are some snippets from Torriero's interview with
MTV Movies
:
Q: By the way, your dream role surprised me. Most people pick a superhero.
A: You know what I really am pushing for? I really want to be Aquaman in Justice League... It's a superhero movie, so it's probably hard to even get in there, but I really want it badly. I really want to be Aquaman so badly.
Q: Wait, what? Nobody wants to be Aquaman. He's ridiculous. Don't be silly.
A: Well I'm a pretty realistic person. People say, 'If you could be anyone you want right now, who would you be?' I could sit here and say, 'Oh, Johnny Depp or Jack Nicholson,' but is it realistic for me to say that right now? No. But I could be Ryan Reynolds or Paul Walker right now. I love Ryan Reynolds' career, I really look up to him a lot.
Q: Word on the street is that you want to be Zac Efron, as well.
A: I auditioned for Link in Hairspray [on Broadway], yeah.
Auditions for Justice League of America began last month. Among the major names that tried out were:
Adam Brody ("The O.C."), Joseph Cross ("Running With Scissors"), D.J. Cotrona ("Windfall"), Mary Elizabeth Winstead ("Grindhouse"), Michael Angarano ("Sky High"), Teresa Palmer ("Wolf Creek"), Max Thieriot ("Jumper"), rapper Common and "Friday Night Lights" stars Minka Kelly, Adrianne Palicki and Scott Porter.