Vince Vaughn, Paul Giamatti and others in the Fred Claus cast recently sat down with Movie Web to discuss their movie. Here's a sampling:
Q: Vince, do you feel like you've ever had to be weary of some sort of backlash? Like people are going to get sick of seeing you do the same character?
Vince Vaughn: I never even think of that. I just don't approach it that way. I never have. I just am fortunate that I try to find stories that I think are going to be fun. Like from a child place, to go work on. Boy, it's easy when you've got David Dobkin directing a movie, this, Wedding Crashers, Clay Pigeons...
And look at the actors I have the fortune of working with. Everyone's been nominated or won but me. I sort of get a complex on the set after a while. Spacey would look at me like, "Well, that's a choice. You could do that. That's nice. You're making a nice turn in the movie."
But no, we had such an unbelievable cast of actors. It really elevated everything. Jessie came up with such a great story. I think it was a bedtime story she was telling her daughter. Then David's so good both at shooting and then finding the story in the editing room.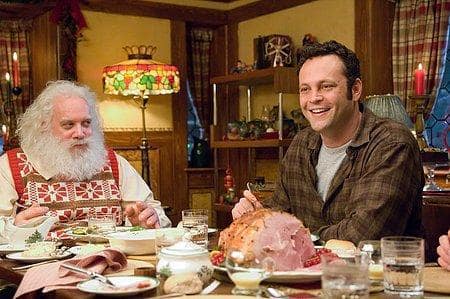 I just think that what really worked most in this film was the unique thing about, "Are there naughty kids or not?" It's a thing that's been done so many times. I think Jessie was able to stumble on a different way of looking at the Christmas holiday movie.
Q: Paul, what sort of mindset did you have to get into to play Santa Claus?
Paul Giamatti: I did a lot of deep back-story. Part of the nice thing about it is that it's such an archetype. You know a lot of the stuff you're supposed to do. I had to work up a good, "Ho-Ho-Ho."
Click here to read the full interview.