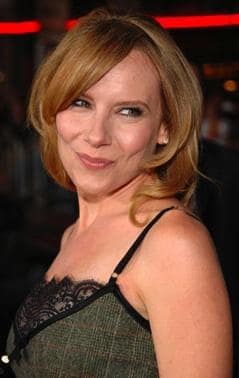 Amy Ryan might very well hear her named call during the Academy Awards.  Her performance in
Gone Baby Gone
is generation serious Oscar talk.
For now, though, the actress is simply talking to Entertainment Weekly about her career:
Entertainment Weekly: How has your life changed since Gone Baby Gone opened?
Amy Ryan: It's gotten busier, and I've run out of adjectives. Even my mother is complaining that she has no more adjectives. She sent me an e-mail this morning and she just wrote ''Woo-hoo!'' [Laughs] And then on the practical side, I'm starting to get invites to the bigger table at Thanksgiving. I don't have to sit at the folding card table anymore, with the leg between my knees! [Laughs] That's the best part of it, that there's access to better material, directors, and actors.
EW: So you're already receiving better scripts?
Ryan: Oh yeah, for sure. Being an actor, we're so dependent on the writers. That's why I'm like, God, I hope the strike ends. My big break during the writers' strike! Oh, crap.
EW: What do you make of the Oscar buzz?
Ryan: I have to keep scratching my ass. You know when people say ''Knock on wood''? I met this woman who said, ''Scratch your ass,'' which is what my grandmother said. It made me laugh so hard that I've been scratching my ass for, like, a month. I did some interview online, and I found myself very subtly reaching around. I think I'm caught on tape somewhere, scratching my ass.
EW: Your next movie is The Changeling, directed by Clint Eastwood. Between him and your Before the Devil Knows You're Dead director Sidney Lumet, you'll have worked with two masters.
Ryan: It's great. I'm really lucky. Clint works very similarly to Sidney Lumet in, like, be very prepared because you're only going to get two takes. Both have, I think, very rich personal lives they want to get home to. I met Clint for the first time on set.
You audition on videotape, so we were getting ready to do the scene and the first thing he said to me was, ''I read you worked with Sidney Lumet.'' I said, ''Yeah.'' He said, ''So you're used to doing two takes. Good.'' [Laughs] Half-compliment, half-threat.
EW: Who do you play in The Changeling?
Ryan: I befriend [a character played by] Angelina Jolie. Both characters end up in really dire situations. And I kind of teach her how to survive. I help her through her darkest hour because I've been there a little longer than she has. But if I tell you where, it gives away a plot point.
Read the full interview with Ryan now.