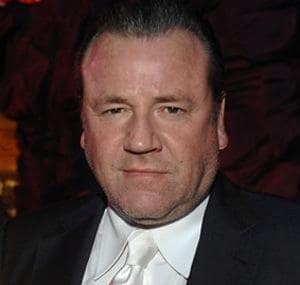 If you didn't know Ray Winstone before this year, you know him now.
The British actor scored a lead role in Beowulf and will soon star opposite Harrison Ford in Indiana Jones and the Kingdom of the Crystal Skull.
The thespian spoke to IGN soon after picking up an Honorary Richard Harris Award at the recent British Independent Film Awards:
IGN: Congratulations! You sounded genuinely touched in your acceptance speech.
Ray Winstone: Well, it's a complete honour, isn't it? [Richard Harris] was someone I watched as a kid, and I was lucky enough to meet him. In fact one of the times I met him was the night before 9/11 in Toronto, sitting in a wine bar with Richard talking about films we'd just done. I'd watched him in This Sporting Life and it did quite honestly change my outlook.
It really opened the doors for people like me or people from Liverpool or Coventry or wherever. Probably I didn't even realise it at the time but those kind of films, Look Back in Anger, This Sporting Life, it's like a circle that's gone round. If you'd asked me twenty years ago, I'd have said 'Bollocks, awards what do they mean?' but I've got to be honest with you, it does give you a lot of confidence to go on and do what you want to do and it's a great thing when people in your industry say well done and you feel accepted.
I'm overwhelmed by it.
IGN
: Where do you go from here?
Ray Winstone
: I don't know. I've never really made any rules about it. You might find it hard to believe but I'm not really ambitious in the way that, I don't really know what I want to do or what I'm capable of doing. I just pick up a script and if it touches me then I want to do it, you know?
And in a way, I don't get disappointed I guess. But if you are ambitious, what happens when you get there? You commit suicide do you, because you got no place to go? I don't see this plan, like, 'I'm going to make this gangster film today and tomorrow I'm going to do a musical' â€" the musical might be s**t! So you just pick something up and think, 'Yeah I really fancy that.' Or. 'I'm really skint and I need to pay the rent.'
Read the full interview here.