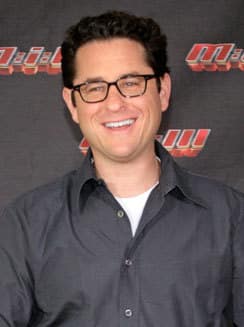 Fans attending
Cloverfield
, the mysterious monster movie from the mind of J.J. Abrams (pictured) will be in for a double treat early next year:
The flick will feature a preview for the upcoming Star Trek film.
Writer/director Matt Reeves has already seen it.
"Way back, J.J. was like 'When Cloverfield comes out, Star Trek will be on it,'" Reeves said of his movie, which will hit theaters on January 8. "I was like 'That's a terrific idea; that's exciting'. So, I've known for a long, long, time that was their plan, and I've just recently seen bits of the teaser. I think it's amazing, and it looks pretty incredible."
As MTV reports, Abrams is a producer on Cloverfield, and one of the main driving forces behind its unorthodox advertising campaign.
Reeves, meanwhile, has been busy at work attaching trailers for his friend's much-anticipated movie on to the front of his own.
"I think people are going to be very excited," he teased. "It's a teaser, you know, it's a teaser trailer. But still, I was like 'Wow!' Just the scope of it, the scale of it, you just look at it and it's so elegantly done... this is a great way to reboot the franchise, and get people excited about something new."