Diablo Cody.
Remember that name.
The screenwriter behind Juno has been receiving critical acclaim for her effort. You'll be hearing a lot from her in the future... and a bit right now. Here are excerpts from a recent interview: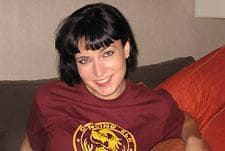 ComingSoon.net
: I just talked to [director Jason Reitman] and he says that he misses you when you don't do interviews together.
Diablo Cody
: I miss him a lot, and in fact, I was complaining in the elevator because I thought we were going to be paired for all of this. We really enjoy that and I was really looking forward to spending a day with Jason and he's not here!
CS: I thought it would be a good idea but then I realized you talk as fast as I do, and he doesn't, so it might be strange.
Cody: (laughs) He's more deliberate actually, which is good. He's a good director for that reason. I'm a lot more manic.
CS: Did you already know about his first movie "Thank You for Smoking" when you found out he was going to direct your first script?
Cody: I didn't actually. I'd never seen "Thank You for Smoking" and I fibbed and told him that I had when we met, so he wouldn't think I was completely unprepared, which I always am. Eventually, after our third meeting, I finally thought, "You know what? The jig is up. I should probably see 'Thank You for Smoking.'" So I went back to my home in Minneapolis and my friends and I got together and we had a little party, and we rented "Thank You for Smoking" and I wanted to see what this guy could do, and he knocked my socks off.
I mean, what a fantastic movie, visually, in terms of the writing, the direction, the tone. I think Reitman is a master at establishing tone, and after I saw the movie, I felt so confident and so blessed. I called Jason and said, "Let's do this!"
CS: A lot of people talk about the dialogue in the script and how original it is. How was the collaboration when you started working with Jason, who as you said, is a writer himself?
Cody: He was very very respectful of the material, and yet at the same time, because he's a writer and a respected writer at that, I could take his suggestions very seriously, and I respected his opinion very much.
Read the full interview here.