Ellen Page and Michael Cera star in Juno. Below, the young stars talk about the film with Movie Web:
How quickly upon reading the script, were you like "I want to do this project?"
Ellen Page: When I read the script it just blew mind and I fell totally in love with it and I just really wanted to be part of it.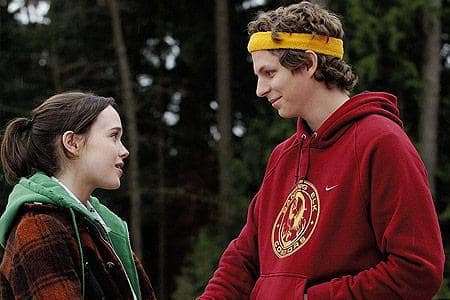 Michael Cera: How quickly?
Ellen Page: Oh, how quickly? ... I don't know, page 4. No, that's exaggerating. One of those things where immediately when you started reading it, you knew it was something special and then the more you read, the more it surprised you, and the more you realized it was devoid of stereotype and...
Michael Cera: I really liked the format of the script. It was not written like a script. It didn't look like she (screenwriter Diablo Cody) was trying to write it like a script. It was more like a book. I can remember certain paragraphs were just like broken up oddly and that kind of ... not like reading a script.
Kinda like a book. That made me want to do the movie. I thought "wow, if it's written oddly then, if it's not written like a script, it's got to be a good movie". I found out, that's not the way to make a decision. And it's not a lesson that I'll soon forget.
What did you two like most about your characters? What about that character that caught your eye?
Michael Cera: I really liked that my character's just kinda immediately less out of the equation. I didn't have any sort of control in the matter. It's like a movie that takes course over 9 months or so and just the whole time, not aware of what's going on and have no control over it, so that kind of, I thought that would be fun to do.
Ellen Page: I was excited about this character because I felt like it was a teenage female lead that we just never seen before and although she's an incredibly unique and witty and all these things, she's also very genuine and it all felt very sincere.