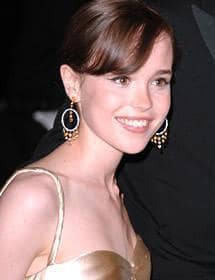 Michael Cera may be the first name you think of when you watch the
trailer
for Juno, but Ellen Page is the actress that truly dominates the film.
She recently spoke to Comingsoon.net about the role:
Q: How do you approach a comedy like this differently from doing a drama?
Page: I don't know. It's interesting. I think I've done some films that have an element of emotional extremity and oddly I think there's an illusion that that's more difficult acting and it can be more difficult to just be and to just be as genuine as possible.
For a film like Juno, I felt like if it was at all forceful than it would have become contrived and annoying and a lax and kind of a genuine emotion that allows for the heart to connect. If you lose that, well you've lost me for one thing. I'm very much like you gotta get me here or, you know?
So often movies that everyone on the planet likes, I don't like, 'cause I'm just like I can't connect to this at all. I think it's about connecting. It's always about connecting. I'm totally rambling. I think with something like "Juno" there's more of a fine line I suppose.
Q: How did you find the physicality of the role, being eight months pregnant?
Page: Intimidated at first, but I actually watched other films. Michael Winterbottom's "Wonderland," I don't know if you've seen that. Amazing movie. And Molly Parker, a Canadian actress, is pregnant in that and gives birth.
I remembered that because I love that film and I was like, "I'm going to watch that and completely rip her off." So shout-out to Molly Parker, and yeah, I bought "Pregnancy for Dummies."
To read the full interview, click here.