More details are emerging about Indiana Jones and the Kingdom of the Crystal Skull.
When last we left our hero, as USA Today reports, he was riding off into the sunset in 1989's The Last Crusade, set in 1938 near the start of World War II. The new film, meanwhile, is set at the height of the Cold War in 1957, so the character has aged 19 years in real time.
"He's teaching and having kind of a quiet life," Producer Frank Marshall says, adding that once the archaeologist is thrust back into danger, the signature Indiana Jones red line tracing across the map will take him to New Mexico, Connecticut, Mexico City and the jungles of Peru.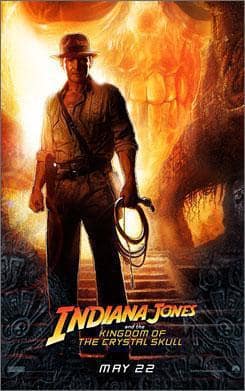 The Nazis are no longer Indy's chief enemy: he's racing for the Crystal Skull against operatives from the Soviet Union, including Oscar winner Cate Blanchett as the seductive Agent Spalko.
"Indy always has a love-hate relationship with every woman he ever comes in contact with," Marshall says.
Ray Winstone (Beowulf) co-stars as an unethical rival archaeologist. Shia LaBeouf sports greaser hair and rides a motorcycle as the hero's sidekick.
The Last Crusade concluded without a cliffhanger, but Indiana Jones and the Kingdom of the Crystal Skull will revisit bits from other films, including Karen Allen's feisty Marion Ravenwood from 1981's Raiders of the Lost Ark.