Grey's Anatomy fans know Jeffrey Dean Morgan as lovable, late patient Denny.
But comic book followers will soon embrace the actor in the role of The Comedian in Zack Snyder's movie adaptation of the famous Alan Moore graphic novel, Watchmen.
During a press conference for another movie he's starring in, P.S. I Love You, Morgan answered a few questions about Watchmen (due in theaters in March, 2009).
Q: Give us an update as to how the filming has been going and what your experiences have been thus far
Morgan: It's super huge, man. It's just like this kind of mind boggling; every day I go to work on that thing and it's sort of overwhelming and I don't know if I've ever done anything that's quite like that before. We're shooting on the New York set now.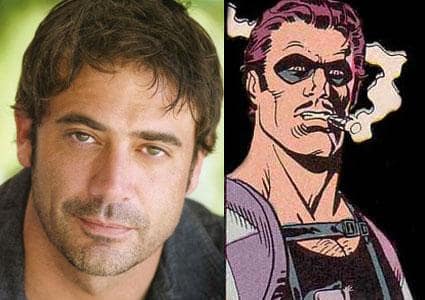 All I can say is it's the most amazing set I've ever seen in my life and we were doing this night exterior - the Keene Riots and seeing the graphic novel come to life like I saw that night… it gives me chills just thinking about it. It's one of those things that I still - I was just telling somebody in another room that it's so much right now to be doing it, just showing up at work everyday and getting into character and going into costume and showing up on the set and then seeing what I'm seeing and how it's all coming together.
I don't know that I have the right words how to describe this experience and tell I'm well done with it because every day it's something else.
Q: Can you talk about your character, The Comedian?
Morgan: Edward Blake is his real name and then the Comedian is the kind of superhero character he is. The character I play is 180 degrees from anything I've ever done before. A far cry from certainly William. A really far cry from Denny Duquette, which is why I wanted to do it. It's a whole other thing. He's an animal.
But I think one of the reasons I got hiredâ€"the things he does, his physical actions are horrendous. Certainly the most horrendous things I've ever seen much less portrayed. But I think my job is toâ€"you don't hate himâ€"so my job is to kind of be able to do these fucking horrible things and yet have the audience not hate his guts.
Because you don't, you read the book and you don't hate the Comedian. There's a reason he does what he does and you know he just takes it maybe to a level that most people wouldn't but for him it's normal.