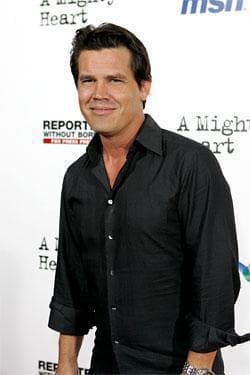 Josh Brolin is a wanted man these days. Following his turn in
No Country for Old Men
, the actor is entertaining numerous offers.
There's one movie, however, he hopes never comes across his table.
"Why do people want there to be a Goonies sequel?" asks the actor, reasonably. "There's two ways it could go â€" to me, it'd be interesting to see a sequel because it's been so long, 23 years or something. So now, you'd have me, a 40-year-old guy whose probably drinking now, chain-smoking… I don't fuckin' know (Laughs).
But to me, the whole idea of going from "I love The Goonies, which is a classic" to "I love The Goonies, what a classic, but did you see the new one?" ....You know what I mean?"
Brolin is signed on, however, for Milk. He'll star alongside Sean Penn.
"Yeah. I'm really happy about that. I've had a lot of scripts come across that are edible, and I've been reading them all, and I read Milk and I think Sean [Penn], who I've known for a while, kinda lobbied for me to do it. I think Matt Damon was supposed to do it, but he left. I read it and I just loved it man. There was no question.
A lot of the scripts you read you're asking yourself 'is this really going to come together? Will they change some of the dialogue?'… This script is just perfect. It's an amazing story that should be told. It's Sean, it's Gus Van Sant, and it's Emile Hirsch â€" who I love â€" so it's all good. But I'm basically doing it for free â€" these great roles, I don't get paid shit. I don't know why."