Judd Apatow recently penned a guest column for MTV. In it, the writer/director talks about how he came up with the concept for Walk Hard: The Dewey Cox Story.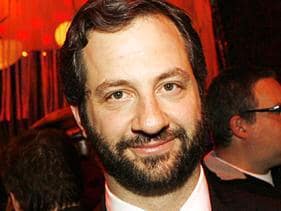 Here are a few highlights from the article:
- On Casting John C. Reilly: In order to write this film, we needed a star in mind to play the lead role, and we immediately knew that John C. Reilly was the only guy who could do it. John is a brilliant actor, but he is also ridiculously funny and, strangely enough, has this gorgeous Roy Orbison-type singing voice.
- On Writing the Movie: [Director Jake Kasdan] and I wrote much of the movie over the phone. We would stay up till all hours talking about the many music biopics we had seen. In the morning my wife would say, "Did you have fun giggling with your girlfriend last night?"
- The Film's Inspiration: We also talked a lot about the mythology of rock and roll. Many hours were spent kicking around all the legends: Keith Richards supposedly having all his blood replaced, Elvis being high when speaking to Nixon, etc.
Apatow then goes on to list his favorite, personal musical experiences. It's a solid read.