As National Treasure: Book of Secrets cleans up at the box office, its star has already said he'd be in for a third movie in the franchise.
What else does Nicolas Cage have to say about the film? Here's a recent interview:
Q: How are you like Ben Gates, your character?
Nicolas Cage: One of the things that come to mind is ancestors. In a lot of, so called, primitive cultures there is a tremendous respect for our ancestors. We don't see that as much, for whatever the reason, in modern American culture. With Ben, I wanted to make it clear that he really believes, probably because the grandfather, played by Christopher Plummer, knighted him at such an early age.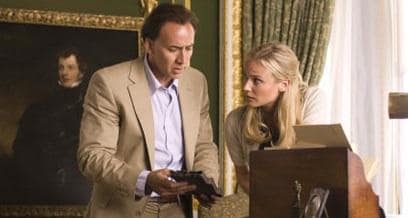 He took it to heart and he really believes, in a chivalrous way, that everything he today is because of his ancestors. They are not dead to him, they are still there with him, and he's honoring them. I like that about him. I think I try to embrace that in my own life. Also history, it's a quid pro quo, I think because of playing Ben Gates I really appreciate history now.
I enjoy being in places that I feel the weight of past events. I like old architecture, old buildings, and if you use a little imagination you can time travel.
Check out the complete interview with Cage now.