MTV recently went on set of the upcoming comedy Nick and Norah's Infinite Playlist.
The film is based on a book and stars a pair of hot young actors: Michael Cera and Kat Dennings.
"[Cera's character] and I meet kind of by chance at a show for his band, the Jerkoffs, and end up kissing sort of by accident, but not really by accident. And then we get mad at each other, then fall in love a little bit, then get really mad, then fall in love a little bit more," said Dennings, who is most recognized for playing Catherine Keener's daughter in The 40-Year-Old Virgin.
"And I find Jesus in a bathroom at one point. There's just so many things in this movie that I actually can't keep track of them all."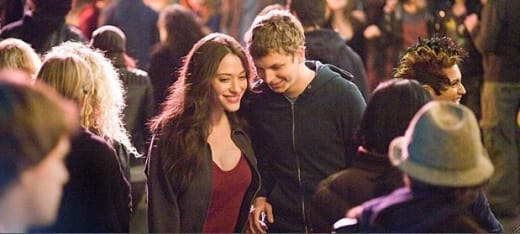 Cera added:
"It doesn't tout itself as the be-all-end-all of youth. Nothing seemed too preposterous in it. It's just a good story of one night going all around Manhattan."
Read the full article from MTV now.