Take this with a grain of salt the size of Sweeney Todd's thirst for revenge, but...
The younger cast members of Sweeney Todd: The Demon Barber of Fleet Street are hoping to star in a sequel to the gory musical.
For example, Jamie Bowers, who plays the love-struck sailor Anthony, wants his character and his lady love Johanna (played by Jayne Wisener) to run away together and begin a new killing rampage.
"We're the killers this time," he said to MTV. "But you can't tell anyone yet."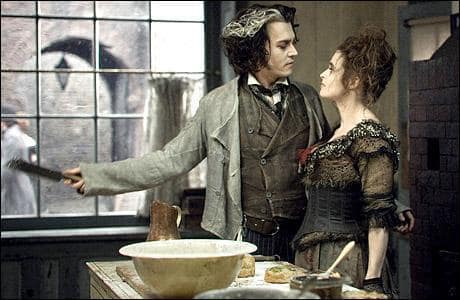 However, the would-be couple have some competition from street kid Toby, who actually commits acts of violence in Sweeney Todd.
"He's quite a troubled young man, he's seen a lot," said Ed Sanders, who plays the character"I think he would be the next Sweeney Todd."
Sanders theorizes Toby would throw people "straight in the fire," as opposed to slicing them open in a chair.
"I think that's because that's what's traumatized him the most," he said. "I'm sure there's many other possible outcomes. It's worth thinking about."