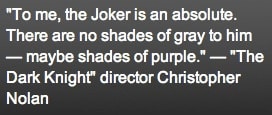 The Dark Knight
Director Christopher Nolan talked to MTV News about "adventurous" character of
The Joker
as he helped unveil an extended trailer this week.
If the opening frames of the movie are any indication, Batman will have his hands full come June. The Joker is on the loose, and MTV has seen just how devilishly maniacal and dangerous he can be.
On Sunday night, a small crowd in New York gathered to watch the first six minutes of Nolan's eagerly awaited sequel to Batman Begins and the footage did not disappoint. Introduced by the beaming director and displayed on an 80-foot-tall IMAX screen, the opening of the film welcomed Heath Ledger's Joker to the Nolan/Batman universe.
And it was clear from the start, much as you might have loved Jack Nicholson's villain, the purple-clad bad man won't have the time or inclination to dance to Prince this time around. Nolan spoke at length with MTV News immediately prior to and following the special event, clearly proud of his new villain.
"I think what Heath is doing is very adventurous," he said. "What he's doing is very radical. It's very much what I wanted. I knew I needed someone really fearless."
Red the full article about The Dark Knight opening now.