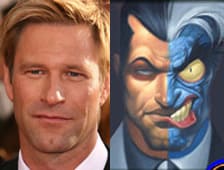 We've heard a lot about The Joker, as portrayed by Heath Ledger, in
The Dark Knight
.
But Director Christopher Nolan claims that the movie actually belongs to District Attorney Harvey Dent (played by Aaron Eckhart, pictured).
In a conversation The Los Angeles Times, Nolan talked about Dent's role in the flick: "Harvey Dent is a tragic figure, and his story is the backbone of this film."
The smooth and politically ambitious Dent is destined to become the scarred supervillain Two-Face. Rumors state that Two-Face will be the main villain in the next Batman movie.
"The Joker, he sort of cuts through (The Dark Knight)," Nolan said. "He's got no story arc, he's just a force of nature tearing through. Heath has given an amazing performance in the role, it's really extraordinary."