Fans of the Toy Story franchise still have to wait awhile until Toy Story 3 hits theaters. But when Buzz and Woody return - on June 18, 2010 - it'll be in 3-D!
Moreover, in advance of the new film, Disney-Pixar will release the first two Toy Story flicks in newly retooled Disney Digital 3-D format.
Look for the 3-D version of Toy Story to debut on October 2, 2009, with Toy Story 2 following on February 12, 2010.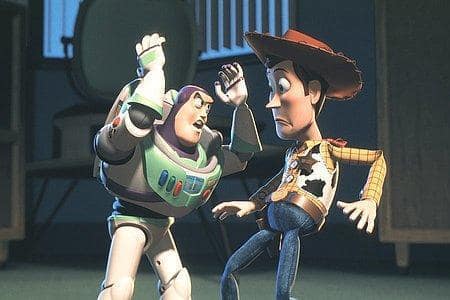 Pixar creative chief John Lasseter is personally overseeing the conversion process. Regarding it, he said:
"The Toy Story films and characters will always hold a very special place in our hearts and we're so excited to be bringing this landmark film back for audiences to enjoy in a whole new way thanks to the latest in 3-D technology.
I am sure that this is going to be nothing short of fantastic and people are going to be blown away by the experience. With Toy Story 3 shaping up to be another great adventure for Buzz, Woody and the gang from Andy's room, we thought it would be great to let audiences experience the first two films all over again and in a brand new way.
3-D offers lots of great new possibilities for the art of animation and we will continue to use this new technology to tell our stories in the best possible way."