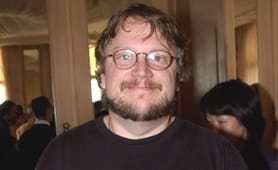 Guillermo del Toro (pictured) is in talks to direct back-to-back installments of J.R.R. Tolkien's
The Hobbit
, reports
The Hollywood Reporter
.
Del Toro, of course, has built up goodwill in the geek world through such films as the Oscar-nominated Pan's Labyrinth, Hellboy, Blade 2 and The Devil's Backbone.
Due to other commitments that included The Lovely Bones and Tintin, The Lord of the Rings director Peter Jackson could not take on writing and directing roles, opting instead to become an executive producer with approval over creative elements of the pair of films.
Principal photography for the films, which will be shot simultaneously, is tentatively set for 2009. The production budget is estimated at $150 million per film. The release of the first film is slated for 2010 and the second in 2011.
The Hobbit is centered on Bilbo Baggins and Gandalf who go on a quest to find the treasure of a dragon named Smaug.