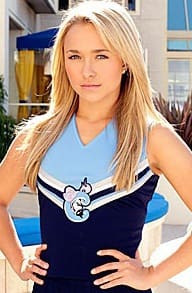 Thanks to the writers' strike,
Heroes
star Hayden Panettiere has a lot of free time on her hands.
And she's using it to star in a couple new films. The latest is called I Love You, Beth Cooper.
The 18-year-old actress will appear at the title character in teen comedy, which will be produced by Chris Columbus (Rent, Harry Potter and the Chamber of Secrets).
As Beth Cooper, Panettiere is a hot cheerleader (typecasting!) that is the object of a nerdy valedictorian's obsession. The pair embark on a series of misadventures after he proclaims his love for her in his graduation speech.
Later this year, Hayden will appear in the drama Fireflies in the Garden alongside Julia Roberts.