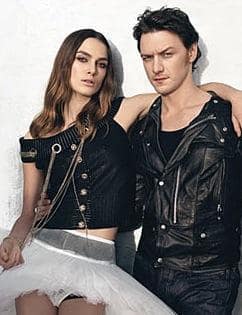 James McAvoy and Keira Knightley grace the current covers of both
Entertainment Weekly
and
W Magazine
.
Here are snippets of the interview the Atonement stars gave the former publication:
Entertainment Weekly: Since so much of Atonement rides on the chemistry between the two of you, how nervous were you to shoot your big love scene?
Keira Knightley: You have to believe that they will wait for each other for five years based on that one moment. So it had to be erotic, and it had to be passionate enough. We talked about it a lot. Most directors just go, ''Oh, you know what to do. Just get on with it.'' Well, actually, I don't know what to do. This is a relative stranger, and I'm in front of a group of strangers and I don't know what to do.
Joe was incredibly precise. He had storyboarded the whole thing: My foot coming out of my shoe, biting my lip at the end, the way my head turns â€" that was all completely him. And during it, because it was so close and it was on a Steadicam, we didn't know what part of the body the shot was on. So Joe literally shouted [directions] out as we were doing it.
EW: Both of you say your favorite scene together is when you reunite over tea during the war.
James McAvoy: That was the scene that made me think, I can do this part. At one point it was dramatically altered.
Knightley: Oh, that was awful! Remember? We nearly died!
Read the full interview with the stars now.