American Pie star Jason Biggs is starring in the upcoming comedy Over Her Dead Body. The young actor recently talked about the role with Rotten Tomatoes.
What attracted you to the Over Her Dead Body script?
Jason Biggs: Well, for comedies, if you read a script and you laugh, it's funny. If you don't laugh, it's not funny. I laughed a lot and that's a good starting point. I thought for romantic comedies, there is a certain formula that you generally need to stick to and the best romantic comedies will play with that formula a little bit. They'll do their best to be original where they can be and play with things.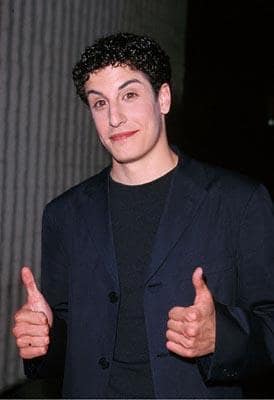 While this may be a recurring theme, I feel like Jeff [Lowell, writer/director] put a lot of original ideas and original comedy into it and it just stood out. Part of that is that he [Jeff] is just so smart and edgy.
The first scene is Eva [Longoria Parker] getting crushed by an ice angel and it's pretty morbid and dark. You could be like "Is this movie going to be too extreme, too edgy?" But he was able to keep the right amount of edge but keep it accessible, fun, and entertaining I thought.
The role was really interesting for me because it actually was one of the toughest roles that I've done because it was really layered. I'm playing a straight guy who's playing a gay guy because he's in love. I had to figure out what Dan's impression of homosexuality was or how he would want to perform it. It had to be credible.
I didn't want to go over the top with it. I didn't want to go stereotypical clichéd places where you'd wonder, "How could you keep up that ruse for five years?" There had to be a bit of ambiguity so it was actually really tough. So the director and I kept talking about it.
I kept soliciting his advice and asking his opinion because I was concerned that I either wasn't doing enough or was doing too much. In the end, we decided that less was more and the more subdued the better... The role was interesting for me, I just thought this could be a really, really fun role to play.
Follow our link to read the full interview with Biggs.