This ought to be the easiest role of Josh Brolin's career.
All the No Country for Old Men star has to do is smile condescendingly a lot, make up nicknames for his poorly chosen government employees and set the bar as low as possible for all future presidents.
In other words: Brolin will be portraying President George W. Bush in an upcoming biopic from Oliver Stone, tentatively titled Bush.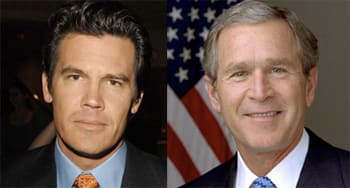 Will Josh Brolin make a convincing President Bush?
The controversial director recently spoke to Variety about the project:
"It's a behind-the-scenes approach, similar to Nixon, to give a sense of what it's like to be in his skin," Stone said. "But if Nixon was a symphony, this is more like a chamber piece, and not as dark in tone. People have turned my political ideas into a cliche, but that is superficial.
I'm a dramatist who is interested in people, and I have empathy for Bush as a human being, much the same as I did for Castro, Nixon, Jim Morrison, Jim Garrison and Alexander the Great."