Due to Nicole Kidman's pregnancy, the gorgeous actress has been forced to step out of The Reader. But the movie has found an ample replacement:
Kate Winslet is stepping in to take over the role. Sources say that Winslet was actually offered the role originally, but couldn't commit due to schedule conflicts.
"Kate was offered it first before Nicole but couldn't do it but the dates clashed with commitments to Revolutionary Road," said an insider. "So the dates changed, Nicole then got pregnant and now it has come back to Kate."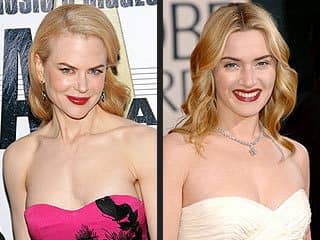 Based on German author Bernhard Schlink's bestselling 1995 novel â€" and Oprah's Book Club selection â€" The Reader is about an affair between a teenage boy and an older woman in post-WWII Germany.
"Actually everyone is happy now â€" Nicole as she has a baby on the way, Kate because she has this great role she originally wanted to do, and the filmmakers are too," added the source.