We wish we could report that Keri Russell has been cast as Wonder Woman in the Justice League of America movie, or in a stand-alone film for the classic comic hero.
Instead, we'll have to settle with the news - courtesy of Michael Ausiello from TV Guide - that the adorable actress is merely voicing the title role Warner Bros' straight-to-DVD animated Wonder Woman feature.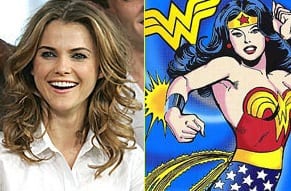 The flick, which is slated for release in late 2008 or early 2oo9, is part of a new line of DVD feature adaptations by Warner Bros. Animation and DC Comics. The first, Superman: Doomsday, hit stores in September; upcoming releases include Justice League: New Frontier (2/26) and Batman: Gotham Knight.
Do you think Russell would make a solid Wonder Woman in a live-action movie?