The songs from the hit movie Juno serve as far more than mere background music.
The film is significantly shaped by the music chosen for it, as its main character actually ends up singing one of the tunes to close the story. The score often reflects Juno's bittersweet character and serve as a metaphor in the film.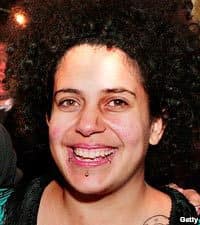 With all that in mind, here's a look inside the
Juno soundtrack
, which was inspired by singer Kimya Dawson (pictured), best known for her work as one-half of the Moldy Peaches.
Below, Dawson comments on the creation of the songs from the movie she was responsible for:
Anyone Else But You' (by the Moldy Peaches):
Me and Adam Green wrote this song sitting in Tompkins Square Park [in Manhattan], sitting on a bench. We didn't write it about each other. We both had other imaginary people in mind. Like our dream best friend/dates. We used to call our crushes "hippies."
We would wander around NYC in the cold all night long looking for hippies. I guess this is kind of what we would have sung to our hippies if we ever found them. We didn't find hippies back then, but the song's still nice. I am nine years older than Adam, so he was still kind of a kid back then. It would have been gross if we were singing to each other. It is cute to see Juno and Bleeker sing it to each other, though.
It feels right. It's a song for awkward kids. We're old hags now. Pass the torch.
Read more about songs from Juno now.