Mortgan Spurlock is a hot name once again.
The film maker - who made himself famous for eating nothing but McDonald's for a month for the documentary Super Size Me - is a hit at the Sundance Film Festival. That's where his movie Where in the World is Osama Bin Laden? premiered.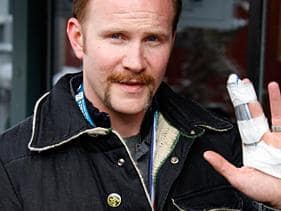 The director chatted about it with MTV News:
MTV: You have possibly the most talked-about film at Sundance '08. Give us the basic plot in your own words.
Morgan Spurlock: I travel all over the Middle East looking for the most wanted man on the planet.
MTV: We remember your saint of a girlfriend from Super Size Me, and she's now your spouse. What does she say when you come up with these life-threatening concepts?
Spurlock: She was really unhappy about this movie. Especially because, right before I left, she told me she was pregnant. So about two months into preproduction for this movie, she said, "I'm going to have a baby," and that changes your whole outlook on making a film like this.
We talked about it ... for me, what the movie became wasn't why [we haven't] found Osama bin Laden but what creates an Osama to begin with. What kind of world am I about to bring a kid into?
MTV: A lot of the fun in this movie comes with the graphics you use to make it look like a video game.
Spurlock: Yeah, I love documentaries, but so many of them go down like medicine. So this ... is something you can watch and have fun [with] and eat popcorn during.
I'm a product of the '80s video game generation, where we went through the Atari 2600, ColecoVision, into Nintendo, all the way up to the Xbox 360, [which] we have in our house here in Park City. I thought that would be a great thing to incorporate to help tell a story.
Read the full interview with Spurlock now.