Yes, Rambo is back.
Its star, Sylvester Stallone, recently chatted with Comingsoon.net about reprising one of his most famous roles:
CS: Did you have to go back and watch the previous "Rambo" films to get back into character?
Stallone: Yeah, you know kind of just the ponderousness that comes with aging, the sense of weight, the sense of knowledge, knowing too much, the lack of naiveté which happened in my life, sort of set the stage for me. I wanted Rambo to be heavier, bulkier, that's why his first line in the movie is pretty negative. He's given up. He has nothing.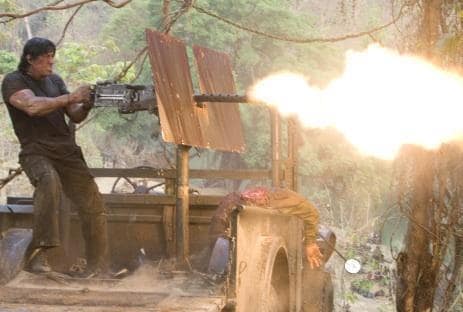 The other Rambos I felt had a bit too much energy. They were a little too spry. I'm not trying to run myself down but there was much more vanity involved. Tank tops, it was all about body movement rather than just the ferocity and the commitment of what he was doing. This character to me is much more interesting.
I like "First Blood" and I like this one, just like the first "Rocky" and the last "Rocky Balboa." Everything in between was kind of trying to figure out what I should do.
Read the full interview with Stallone now.