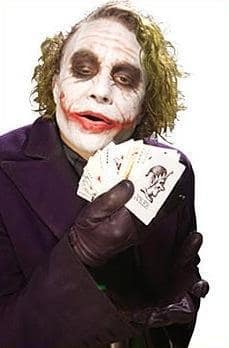 While the marketing campaign for
The Dark Knight
is inconsequential when compared with the effects of Heath Ledger's tragic death, it's still something the studio will need to consider.
Principal photography on the movie finished in the fall; and, as of Tuesday, the film is still scheduled for a July 18 opening.
But the status of the picture'ss marketing campaign is uncertain. The first phase is built around The Joker, with images of his character particularly ghoulish.
Warner executives were still grappling with the news on Tuesday and had no comment on how they would proceed.
"The studio is stunned and devastated by this tragic news," said Alan Horn, president-COO, Warner Bros. & Jeff Robinov, president, Warner Bros. Pictures Group. "Heath was a brilliant actor and an exceptional person."
In terms of The Dark Knight, one insider lamented:
"The Joker character is dealing with chaos and life and death and a lot of dark themes. Everyone is going to interpret every line out of his mouth in a different way now."