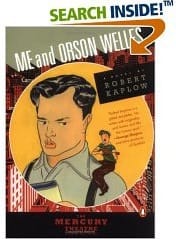 Zac Efron is expanding his movie resume.
He'll be starring in Seventeen, alongside Matthew Perry, and will also play a role in Me and Orson Welles, an adaptation of the period coming-of-age novel by Robert Kaplow.
Set in 1937, the story centers on a high school student (Efron) who, while strolling the streets of New York, comes across the yet-to-open Mercury Theatre and is noticed by its mercurial founder, Orson Welles.
The man lands a bit part in "Julius Caesar," the production that catapulted Welles to the top, and spends the next week learning about life and love.
Christian McKay will play Welles, while Ben Chaplin has been cast as English film and stage actor George Coulouris.