When asked the similarities - yes, there are a couple - between his character of Harvey Dent/Two-Face and Batman in The Dark Knight, Aaron Eckhart told MTV:
"Well, they're both crime fighters. They both care about law and order. They both care about Gotham City. Although they come from different backgrounds, they share certain things. Pausing, he added, "[Things that] I cannot tell you about."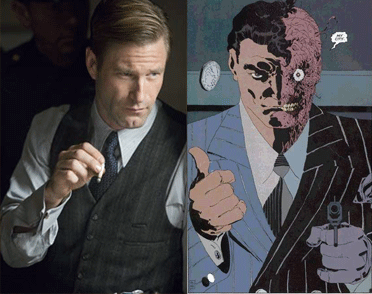 Might these two enemies also have something else in common? Namely, District Attorney Rachel Dawes? Eckhart says he'd love to say, but can't utter a word about any The Dark Knight spoilers.
"I can't comment on anything. I'm sorry. You gotta ask, but literally, if I ever want to work in this town again, I cannot say anything to you," he said, smiling. "[Chris Nolan] is a good man, but he's a tough man."